Wedding in the Upper Savinja Valley. ... special, unique, with the most beautiful view ...
There are many beautiful moments. But this one is the most beautiful. Promise forever. Your special day.Your wedding.
An extraordinary natural idyll with an innate romantic touch is a touch on and for your unforgettable life event. Say "yes" in the embrace of mountains and forests, in a flowering meadow, along a borderless beautiful green river or in a fairytale castle.
Make this step of love in collaboration with experienced top wedding hosts and make sure you never forget it. You can choose between official and other common locations for marriage.
Weddings in nature
Are you lovers of nature and mountains? Nature will take you to many possible spectacular locations for weddings:
- wedding under the ski jump hill
Wedding in Mozirski gaj, in the park of flowers
In the park is the chapel of Saint Valentine, in which wedding rituals are performed. Outdoors, they have a wedding pavilion for civil ceremonies.
At the walk you will be accompanied by ethnographic objects and corners for beautiful shots throughout the park, which you will be happy to see for many years after this unique and unrepeatable event.
Wedding at Vrbovec castle
It is right that on such a special day as the wedding day you feel like a king and a queen.
The wedding hall is located in a tower facing the confluence of the Dreta and Savinja rivers. It is round and takes around 80 people.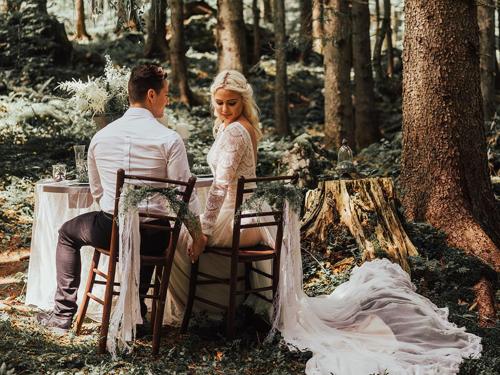 Course.
A SPECIAL DAY REQUIRES A SPECIAL EXPERIENCE.
We will organize from the beginning all needed things for your perfect wedding.
Unique cuisine. The wedding menu is just for you. An unforgettable atmosphere.
The culinary menu of our chef will also enchant the most unique tastes.
If you want an unforgettable culinary experience for your wedding, it's important to plan together w
ith our Chef your wedding menu.